1-On-1 Training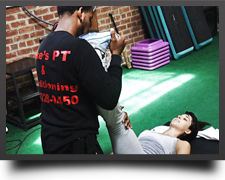 One client, one trainer, and one or more goals… That's all we need to get you started on your fitness journey – no matter where you are. After visiting Rise N Grind Fitness, you'll understand why our clients keep at it long after others have dropped out of their gym. You'll take charge of your life – and have fun doing it! (Yes, really!)
Are you looking to:
Have more energy?
Lose weight?
Lower your blood pressure?
Run your first half marathon?
Improve your golf game?
Keep up with your children or grandchildren?
No matter what your goal is, with our help, anything is possible. We understand that your fitness goals and health are unique to you. Our personal trainers tailor each workout to your abilities and needs while training your body to function more efficiently and effectively. At Rise N Grind Fitness, you'll practice resistance training, get accustomed to a cardiovascular routine, learn proper nutrition guidelines, and get well-rounded workouts through resistance training, strength training, and core/abdominal training.
Book a free session and get started on the better you, today!
Off-site*/In Home Personal Training
Pre/Post Natal Training
Kickboxing Training
Crossfit Training
Off-site*/In Home Personal Training

No time to drive to the gym or want a change of scenery? We offer personalized workouts in the comfort of your home or at an offsite location (Lake Merritt, anyone?).
*Please note: Rates for off-site training is exclusive to a 15 miles radius. Any additional mileage must be agreed upon before booking.
Many women want an active, healthy pregnancy but are confused by the conflicting information on the internet regarding how to exercise safely while pregnant. Our Pre/Post Natal Training program is designed to ensure you stay healthy and fit throughout your pregnancy (and beyond!).
We aim to minimize the effects of pregnancy on your posture, strengthen your stomach muscles and pelvic floor in preparation for childbirth, and finally, but by no means least, make it easier for you to get back into your pre-pregnancy clothes! For Post Natal Training, our trainers will craft you a structured exercise program once you have been given the all-clear by your doctor at your 6-8-week postpartum check-up. We'll help you shed unwanted body fat fast so you can be on your way to being a healthier you for you and your child.
Most people only have one hour a day to devote to the gym – with kickboxing, you can maximize your time, and burn 500 calories an hour! Using a mix of cardiovascular exercise and resistance training, our kickboxing program is a combination of drills and exercises utilizing our trainers as your target. These drills give you a total body workout that targets problem areas like the midsection, legs, arms, thighs, and glutes in one workout. How does it work? Explosive-type exercising like kickboxing utilizes more fast twitch muscle fiber, as opposed to the mostly medium and slow twitch muscle fiber used during exercises like lifting weights. This can help you develop more lean body mass than other forms of resistance training.
Been thinking about starting CrossFit, but not sure where to begin? Let our personal trainers help you learn the ropes in a safe and unintimidating environment. CrossFit describes its strength and conditioning program as "constantly varied, high intensity, functional movement," with the stated goal of improving fitness (and, therefore, general physical preparedness) which it defines as "work capacity across broad time and modal domains." The workouts themselves are typically short — 20 minutes or less — and intense, demanding all-out physical exertion. CrossFit combines movements such as sprinting, rowing, jumping rope, climbing rope, flipping tires, weight lifting, carrying heavy objects, and many bodyweight exercises using equipment such as barbells, dumbbells, gymnastics rings, pull-up bars, kettlebells, medicine balls, and boxes. These elements are mixed in numerous combinations to form prescribed "Workouts of the Day" (WOD). Hour-long sessions include a warm-up, skill development segment, the high-intensity WOD (remember, it's only 20 minutes!), and stretching.