1-On-1 Training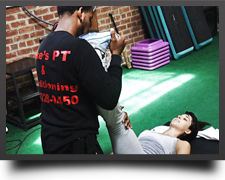 With 1-on-1 personal training you have 1 client, 1 trainer, and 1 or more goals to achieve. you begin to understand why our clients keep at it long after others have dropped out of their gym.

Our personal trainers help you teach your body to function more efficiently and effectively, while avoiding the inconvenience and distractions of a regular gym.
Resistance training
A cardiovascular routine
Proper nutrition guidelines
Strength training
Core Training
You have your own fitness goals:
Have energy.
Lose weight.
Lower your blood pressure.
Be able to walk on your own.
Run your first marathon.
Improve your golf game.
Keep up with your children or grandchildren.
Whatever it is, anything is possible. Just believe and you will achieve a better you.

Offsite/In Home Personal Training:
You are about to take charge of your life, and have fun doing it. Personalized workouts in the comfort of your home, residence or cottage, or outside my health facility. I will bring the gym to you, you choose your comfort zone, in or outdoors.
Please Note: Rates exclusive to 15 miles radius. Anything more than that is issued to subject change.

Whether you want strength building, weight loss, an overall physical improvement, or some/all of the above, your body, health and fitness levels are unique to you. That means your goals must suit your abilities and needs, and your plan and training program must be designed specifically for you.


Pre/Post Natal Training:
Offering personal training to women who want an active, healthy pregnancy (and beyond) but are confused by the conflicting information regarding how to exercise safely and effectively during this time. Our personal training program has been designed to ensure you stay fit and healthy throughout your pregnancy. We aim to minimize the effects of pregnancy on your posture, strengthen your stomach muscles and pelvic floor in preparation for the birth and finally, but by no means least, make it easier for you to get back into your pre-pregnancy clothes!
Nutrition. Gaining the right amount of weight during pregnancy by eating a healthy, balanced diet is a good sign that your baby is getting all the nutrients he or she needs and is growing at a healthy rate

. Once you have been given the all-clear at your 6-8 week post-partum check-up you can begin a structured exercise program. Our focus now is to assist you in dropping unwanted body fat fast, so you can start or finish your goal to your better you.


Kickboxing Training: Burns an average of 500 calories an hour (some estimates reach 810)
Kickboxing program is a combination of drills and exercises utilizing me as your target that provide you with cardiovascular exercise and resistance training simultaneously. These drills are designed to give you a total body workout that targets the problem areas of the body like the mid-section, legs, arms, thighs and buttocks in one workout. Explosive type exercising like kickboxing utilize more fast twitch muscle fiber as opposed to the mostly medium and slow twitch muscle fiber used during exercises like lifting weights. This can help you to develop more lean body mass than other forms of resistance training.


CrossFit Training:
CrossFit describes its strength and conditioning program as "constantly varied, high intensity, functional movement," with the stated goal of improving fitness (and therefore general physical preparedness), which it defines as "work capacity across broad time and modal domains." Workouts are typically short—20 minutes or less—and intense, demanding all-out physical exertion. They combine movements such as sprinting, rowing, jumping rope, climbing rope, flipping tires, weightlifting, carrying heavy objects, and many bodyweight exercises; equipment used includes barbells, dumbbells, gymnastics rings, pull-up bars, kettlebells, medicine balls, and boxes for box jumps. These elements are mixed in numerous combinations to form prescribed "Workouts of the Day" or "WODs". Hour-long classes at affiliated gyms, or "boxes," typically include a warm-up, a skill development segment, the high-intensity WOD, and a period of individual or group stretching. Performance on each WOD is often scored and/or ranked to encourage competition and to track individual progress.