Valerie L.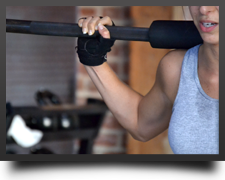 Having a personal trainer like Andre has changed my life. I've been working out with Andre Luke for a little over three years and could not be more happy about my training sessions. Prior to working out with him I felt like I had to not eat a lot and be super mindful of what I ate, although I was also doing a lot of cardio work on my own. I had issues of self-esteem, and would often force myself to eat less than what I truly wanted, because I was afraid of gaining a lot of weight.
I was going to the gym, but I felt like I wasn't seeing the results I wanted and didn't have the discipline and motivation that I really wanted. I now can honestly say that I am a self-confident woman, who eats as much as I want, although I do try to eat healthy because it makes me feel better. I do not deprive myself of anything, and I never go hungry.
Shortly after starting to work out with Andre my mind set totally changed. I now feel like I can eat healthy portions of food, and I don't worry about weight gain since I have gotten to the point that I have enough (not yoked though) muscle to get my metabolism up. Now I feel like I burn calories even when not working out. At age 30, my metabolism is faster than it has ever been. Andre listens to my desires and goals, and although I am stronger than I have ever been, he makes sure that I do not bulk up, but rather maintain lean and toned muscles — which is something I was very adamant about.
I have had various injuries, which Andre modifies exercises for, yet I still come out with the same results, but without the unnecessary pain. The great thing is that after three plus years, we still do things we hadn't done before and he always comes up with creative ways to work out keep me from getting bored. He also creates workout plans for the entire month — even for days I am not training with him. I also am lucky that he is super flexible with my schedule if I need to make last-minute changes. 

I almost moved to Los Angeles and was freaked out that I would not be able to have him as a trainer and tried to find ways to make him move there also. But, instead, I remained in the Bay Area, and whether I lived in San Francisco, or now Walnut Creek, I still drive to Oakland to have training sessions with him three times a week.