Italian Dressing Marinated Rockfish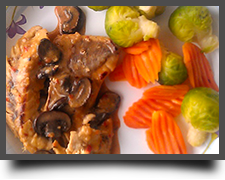 Preparation time: 20min.
Easy lunch or dinner meal, with lean protein since it's a white fish, and some vegetables for the body to get your metabolism moving at night. It's quick, easy, and it's worth it when you're done. Throwing the fish in a bag with marinate overnight or before you go to work, gets the fish to really soak it in. All you need to do then is put it in a pan on the stove, throw some vegetables in when it's half way done, and bam.
Ingredients:
4 oz Rockfish
2 regular sized portabella mushrooms
4-5 oz of Italian Dressing
2 pinches of pepper
Hand full of crinkled carrots
6 Brussel sprouts
Calories – 300 to 330