About Andre Luke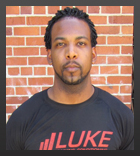 Andre Luke, Certified Personal Trainer
Certified personal trainer Andre Luke has been committed to improving the lives of others through fitness for over a decade. A self-proclaimed "life coach," he believes that the condition of a person's body impacts every aspect of their life. His training style is wide-ranging and customized to meet the unique needs and goals of each client. With Andre as your trainer, you are not a number, you will set and attain your goals, you will push yourself harder than you thought possible, you will learn how to fuel your body for optimum performance, and you will love the results!
Andre is so committed to helping his clients achieve their goals that he was featured in one of the 24 Hour Fitness Biggest Loser Weight Loss Program commercials for his role in helping a client achieve great weight loss.
Before becoming a personal trainer, Andre was a high-ranking competitor in Track & Field in the state of California. After suffering and overcoming four serious injuries, including a torn knee ligament, he has dedicated himself to helping his clients safely reach their fitness goals. His favorite part of his job is pushing clients beyond their comfort zone and seeing how excited they become when they realize what they've accomplished!
You're not in this alone. Book now, and let Andre help you reach your personal best.